Hey after hours and I do mean hours of stiching and cramps in my legs I have finished my garter!! It is not what I was expecting- it is not your typical garter nor typical in any way. It is rough and ready!!! Here are a couple of pics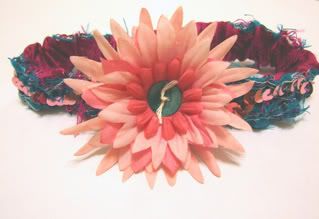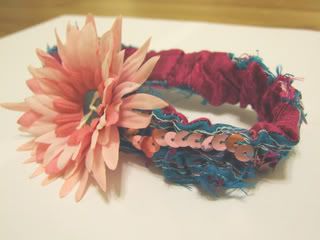 So what do you think?? Is it suitable for a wedding?? James says he like it!!
So stress rating for today- 1 I have had a fairly relaxing day, we cleaned, tidied, took the boys to the dentist, dropped them off to my mate Nicola and met with the registrar. Picked up our wedding rings they are so lovely!! and then had a wander round st nics market looking at the fab clothes and bag stall. I saw a small rucksack perfect for our honeymoon in fusia pink - I nearly bought it when she said if I go to the shop they have ones in patterened designs like cherries so guess where I am going to go in the next few days???
My little bro is coming to stay with us tommorrow eve, he asked if he could come up early for the wedding to see us, I think he is so lovely- he is 15 and a really nice teenager- my boys adore him!!! I will see if he will let me get some pics of him to put up!!
Right tommorrows tasks are looking after 5 kids, cleaning out my friends guini pigs(they are soo cute), getting the boys haircuts, doing a table plan scrapping layout for saturday, getting the shopping (although thats easy as tescos deliver!!) I am sure there are other bits too!!!
Right I think I will go and watch Holby now (I taped it earlier!!!)
Night