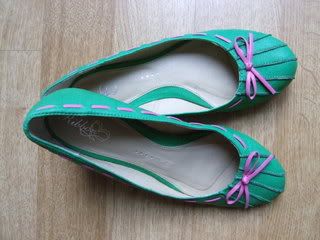 I went shopping yesterday and got 2 new pairs of shoes they are sooo gorgeous I have to show you some piccys. The red one have such large heels they almost make me normal height:) (I am only a wee 5 ft 3)
I also went shopping for bits for me to make myself a garter (I tried to buy one and none of them were bright enough for me!) I thought I would put my fashion and textiles skills in to action and make my own!! So in to John Lewis I went and bought some feather trim (in turquoise of course!!) some sequins, lace, elastic and lots of turquoise threads:). Right will have to start that project soon as the wedding is in 5 days!!!!!!!!!!!!!! Only thing is I have a bag of raw silk pieces in fucias and turquoise colours and I cant find it:( I have some white silk though so maybe I will use that. I will post a pic of it once I have finished it.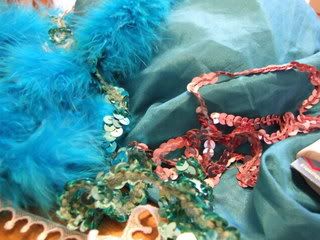 It has been soo hot today , and we had to spend all morning cleaning and tidying (not that it actually looks any tidier or cleaner than it did this morning. I had the funest of fun jobs cleaning the bathroom (we will have lot of visitors later in the week) I bleached everything and I mean everything bang went the lime scale and banished were the germs so if nothing else I have a VERY clean bathroom!!!
I should start a stress scale on my blog just noting how stressed i am each day ok the scale is as follows 1= lovely & calm 10= Ready to be locked up today I would say I am a 2 (the boys argued quite a bit earlier- not too bad though!!)
Right I should go and make coffee and sit with James but he is watching topgear I dont mind it but I like my friend the computer:D. I should go and finish my LO I started the other night when I ran out of herma, luckily when in hobby craft I spotted Emma and Liz, and Liz had a spare in the car- thanks Liz!! I wish I could meet up with my scrapping buddies more, next crop isnt until september, then it scrap camp!!!!!!!!!!!!!!!!!!!!!!!!!!! I am soooo looking forward to that:D
Speak soon