I met up with some of my scrapping pals today up at blaise castle. It was such a lovely day!! I had to put 2 lots of factor 50 on (I am a little paranoid about sunburn). Poor James has to ferry us up there as my brother Jess was with me. I wandered around the park looking for Elaine and Mel (I didnt know what they looked like though as they are on line friends!) After looking around for a bit I saw them holding a copy of Scrapbook inspirations!!!! It really made me laugh!!! After lots of chatting in the blasing hot sun Ellie arrived then James and the rest of us then Mandy then Ruth (we had lots of kids between us) It was a really nice afternoon will have to borrow a pic of us all from one of them!!!
I did my table plan I am quite pleased with it!!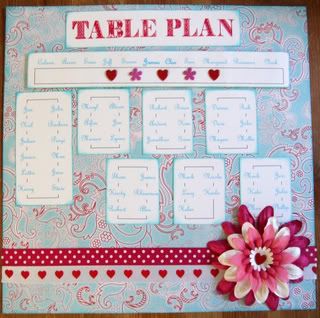 I had my nails done earlier too so am finding typing tricky!! They are lovely though!! Less than 2 days to the wedding now. I am sooo calm its great!
Tomorrow is going to be a busy day we have to pick up and deliver the cake and other bits for the hotel and pick up all our clothes and have lots of family visits!!!
Stress score today a 2 so goood for only 2 days before the wedding:D
Right James parents will be here in a mo so have to go!!
Bye!!